Recently, I was chosen as one of eight Oklahoma City bloggers to receive a shopping spree at JCPenny's as part of a promotion for the new BeautyHacks feature at BlogHer. I got to meet up with the mind-bogglingly fabulous Susan Wagner who is the editor for BeautyHacks, and creator of 'Friday Playdate', a blog I can no longer live without.

JCPenny and BlogHer offered me $300 for a new Fall wardrobe, to try out the new trends of the season. To this I responded, "Um, YES, thankyouverymuch."

I was in desperate need of some versatile Fall pieces that would blend seamlessly with my current 'vintage heavy' wardrobe. And due to my current status of 'undeniably pregnant', I needed pieces that would work for now and beyond.

Susan to the rescue!! Dun dun dun dun!

Prior to this shopping trip, I was still trying to squeeze into my pre-pregnancy clothes. They were starting to look a little...strained, if you will, and I had no sweaters or long sleeve shirts for the coming chill in the air. And, if I'm going to be perfectly honest, I was quickly approaching the "sweat-pants are perfectly acceptable all day everyday" mentality, which, as I'm sure you know, never ends well for anyone.

I believe that pregnancy should be a time of celebrating who you are as a woman. I believe it is a time of beauty and a style of its own accord. And I believe that fashion doesn't need to be put on hold due to an expanding waistline.

Thankfully, JCPenny's feels the same way.

Here are some BEFORE shots:


Here I am looking like I need clothes that fit me better.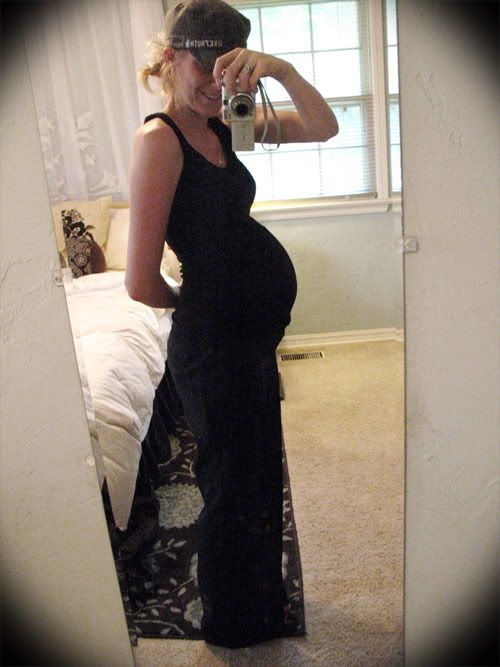 I have a lot of Summer-y tops, and was in need of some warmer pieces for the Fall.
And here is a top I wore almost every day with my lovely black sweatpants. (YES, THAT IS A HOLE.)
As you can see, I was in need of some stylish pieces that looked classy and could be worn for many occasions. Pieces that didn't look ratty, or too small, but polished and sophisticated.
After meeting up with Susan at my local JCPenny's store, I was able to come home with an amazing (and versatile) Fall wardrobe that will last me this season and beyond. Here are some of those pieces: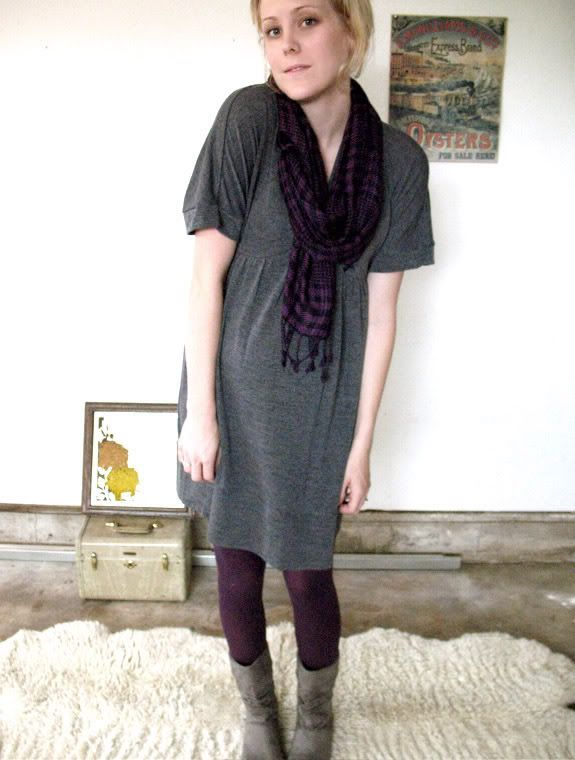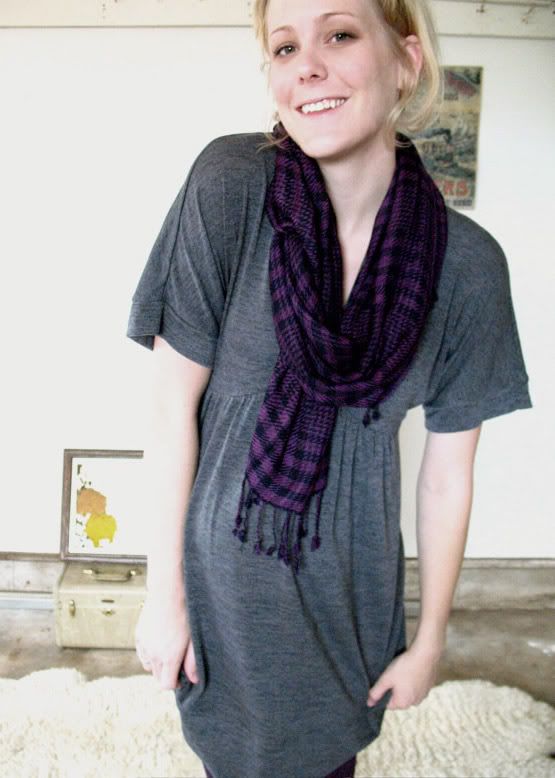 This dress fits my belly well, and can be paired with tights and boots and scarves this Fall for a trendy (un-frumpy) look that goes beyond the staple 'jeans and sweaters' style. The scarf, boots, and dress are all from JCPenny's, and I love the 'jewel-tone' colors mixed with a basic gray.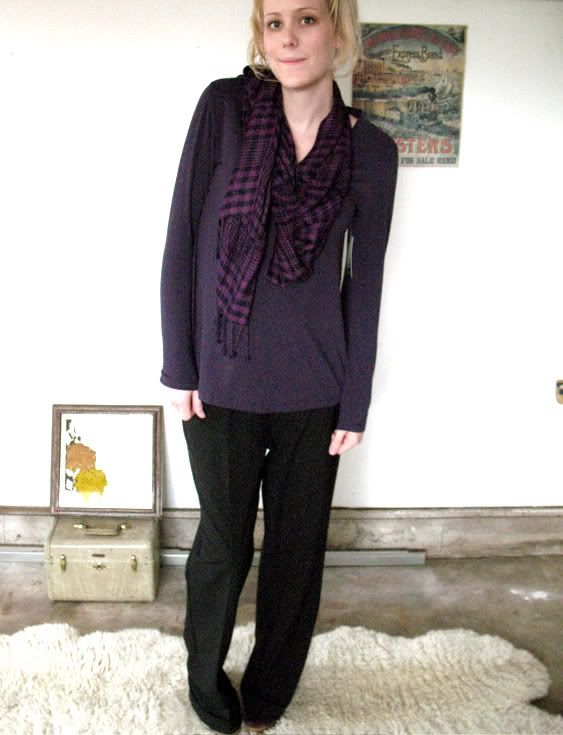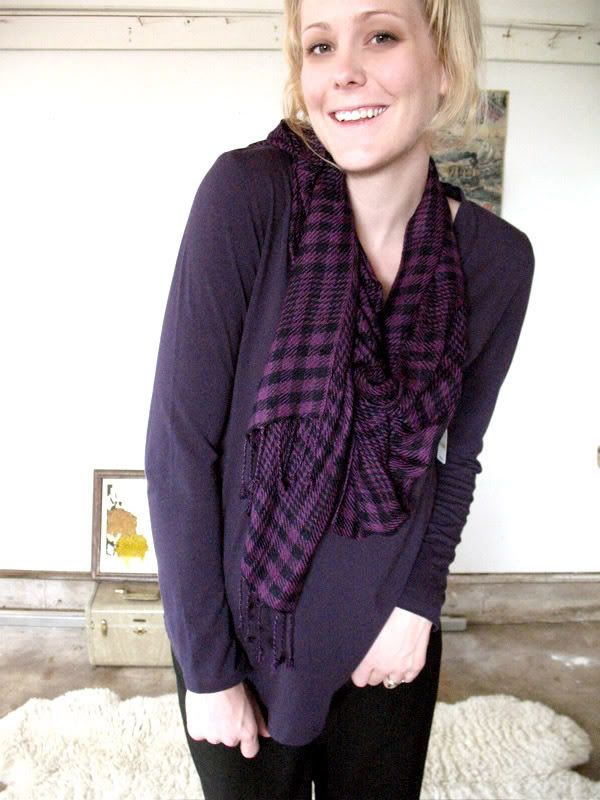 Every woman needs a nice pair of wide leg pants that can be thrown on with just about any top for a pulled-together look without too much effort. These pants are from the Maternity section at JCPenny's, and they are as comfortable as they are stylish. This long sleeve top is a beautiful deep purple (I brought home a LOT of purple), and it is from the maternity section as well.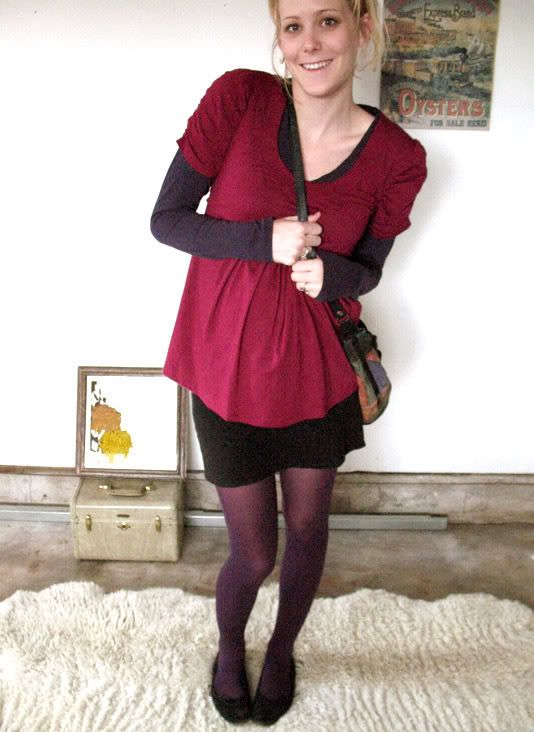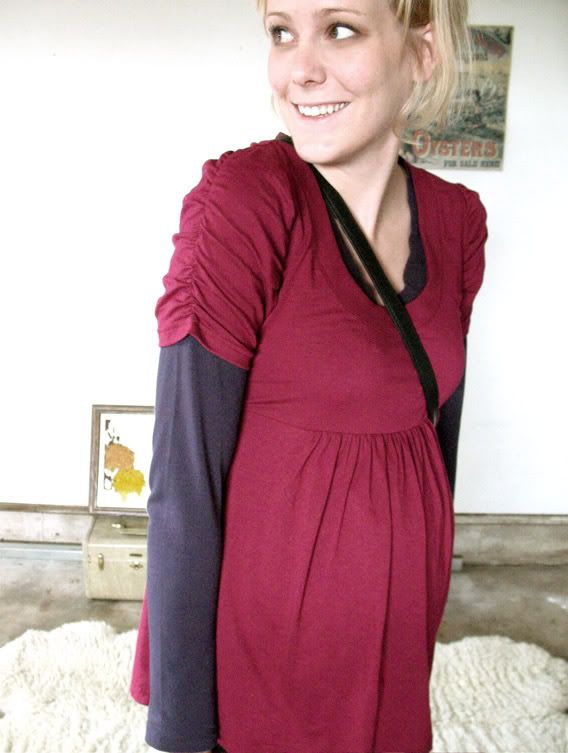 This maternity top is so flattering and the color gives a normally drab Fall wardrobe a little "pop" and spunk. I LOVE the gathered sleeves, and it looks great layered with the purple top for extra warmth.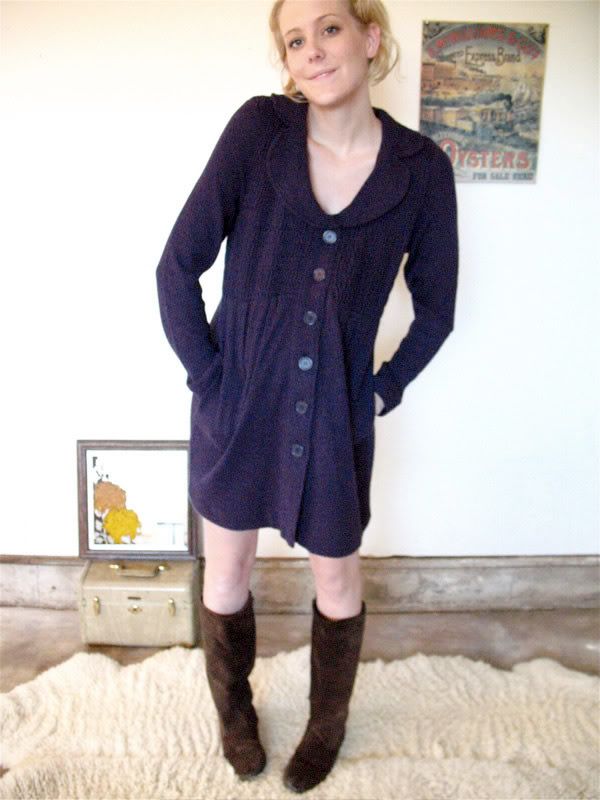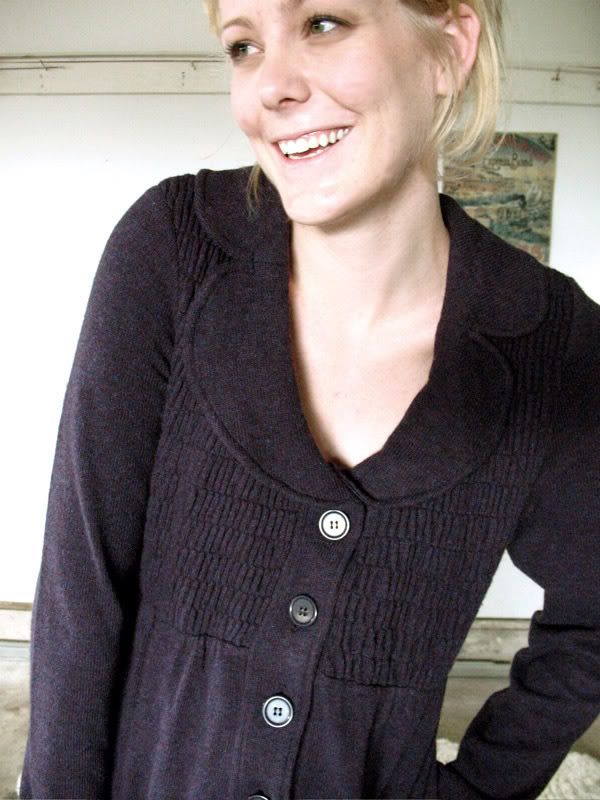 This Nicole Miller sweater is one of my favorites because it has such great detailing and looks cute over just about anything. The empire waist is so flattering, and it looks good worn open (over blouses and wide leg pants) or closed over dresses with tights and boots.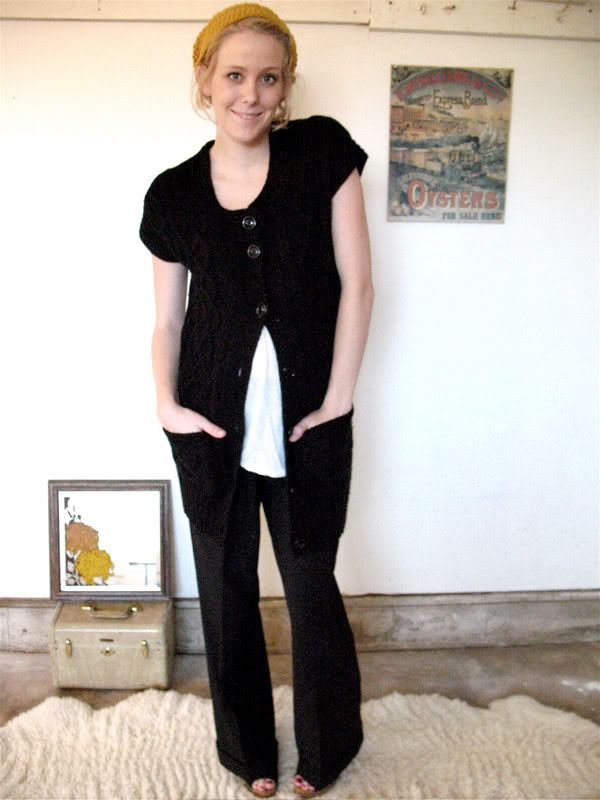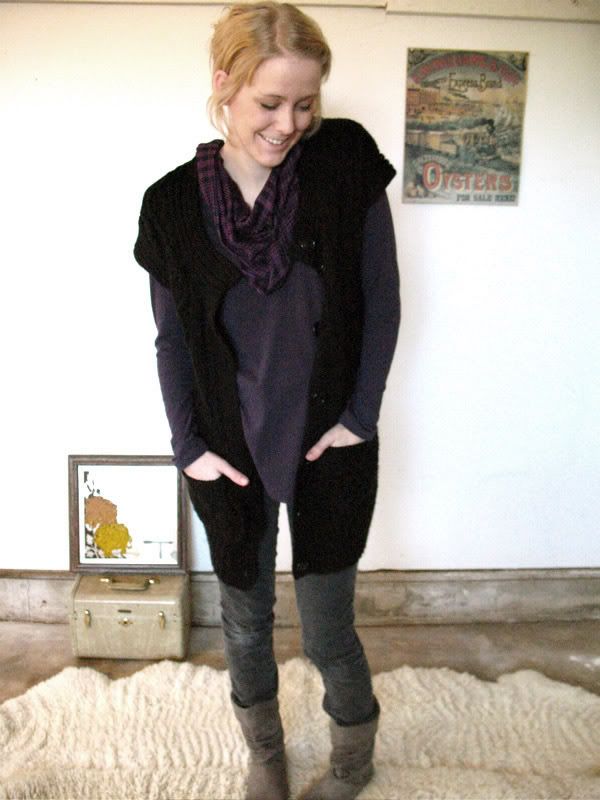 This long, black cable knit cardigan was just the sort of basic piece I was looking for to mix and match with my current wardrobe. Not too heavy, not too light... still can be paired with long sleeves or dresses or jeans. Cardigans are going to be big this season, and the solid black is great for me because it goes with everything!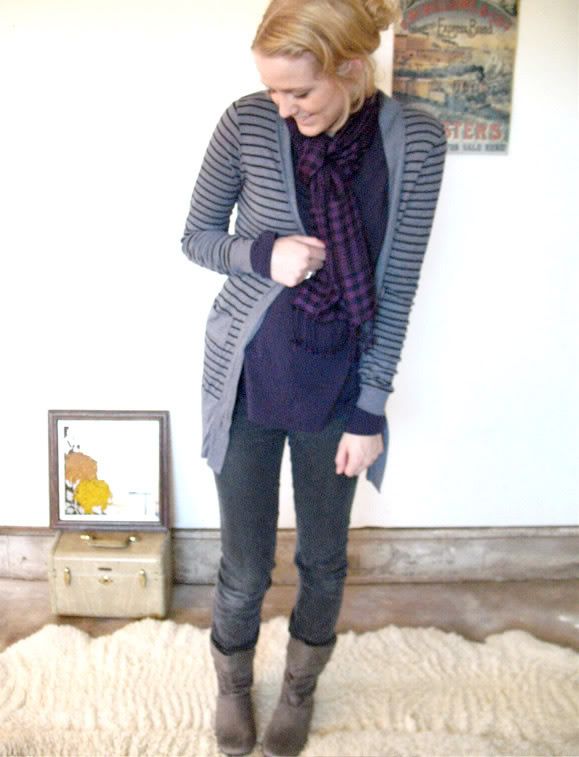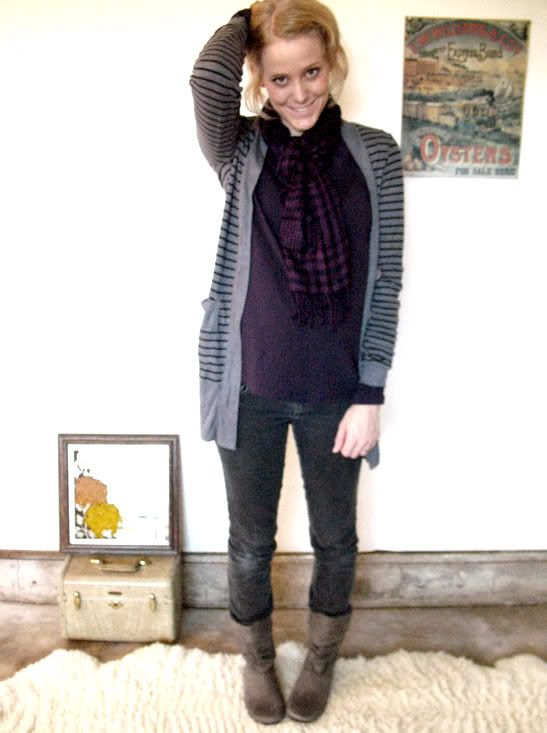 Lastly, I wanted to put together a casual outfit that I could wear on the weekends or while running errands. This is the deep purple long sleeve top, the scarf, and the boots I got from JCPenny's, paired with a cardigan I had and some skinny jeans. It's comfy, cute, and just warm enough for the Fall chill.
I'm SO thrilled with how the pieces I found blend into my existing wardrobe. It goes to show you that a few of the right items can totally revamp your entire closet, without breaking your bank!!
THANK YOU JCPenny's, BlogHer, and Susan!! I am
beyond
thrilled with my new Fall style!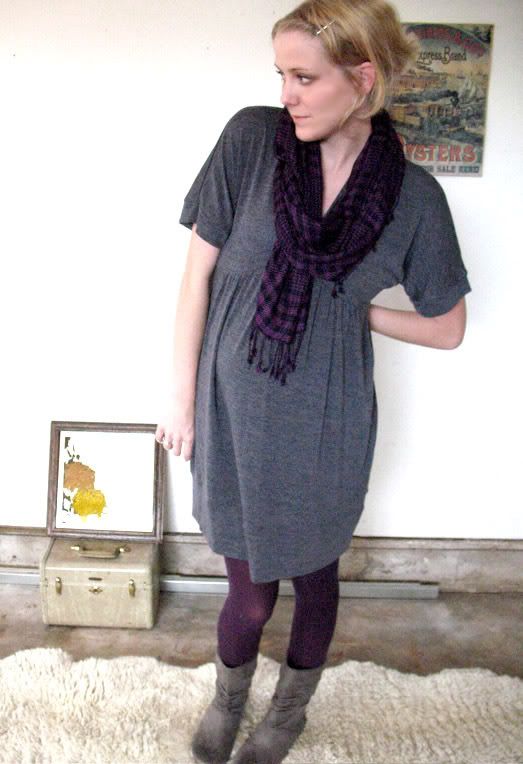 Here's the best bit: Now YOU can enter to win a $300 gift card to JCPenny as well!! Enter by clicking
here
... and GOOD LUCK!!